Gwent Theft Auto: Newport City is one of those perfect ideas where you wonder how nobody has come up with it before. I guess it takes the unique Welsh genius to come up with this stuff.
No doubt taking inspiration from Christian Hart's excellent 2012 video Now That's What I Call Skateboarding in more ways than one, Gwent Theft Auto is a scene video out of Newport, South Wales. With parts from Sox, Tom Bailey, Beanhead, Chav Dean, Kyle Howells and Arbel Samsonov, Nathan Pritchard and Jake Collins, Lewis Gherkins and Sam Pulley, with plenty of other bits in between too.
Example of NTWICS's excellent yet infuriating packaging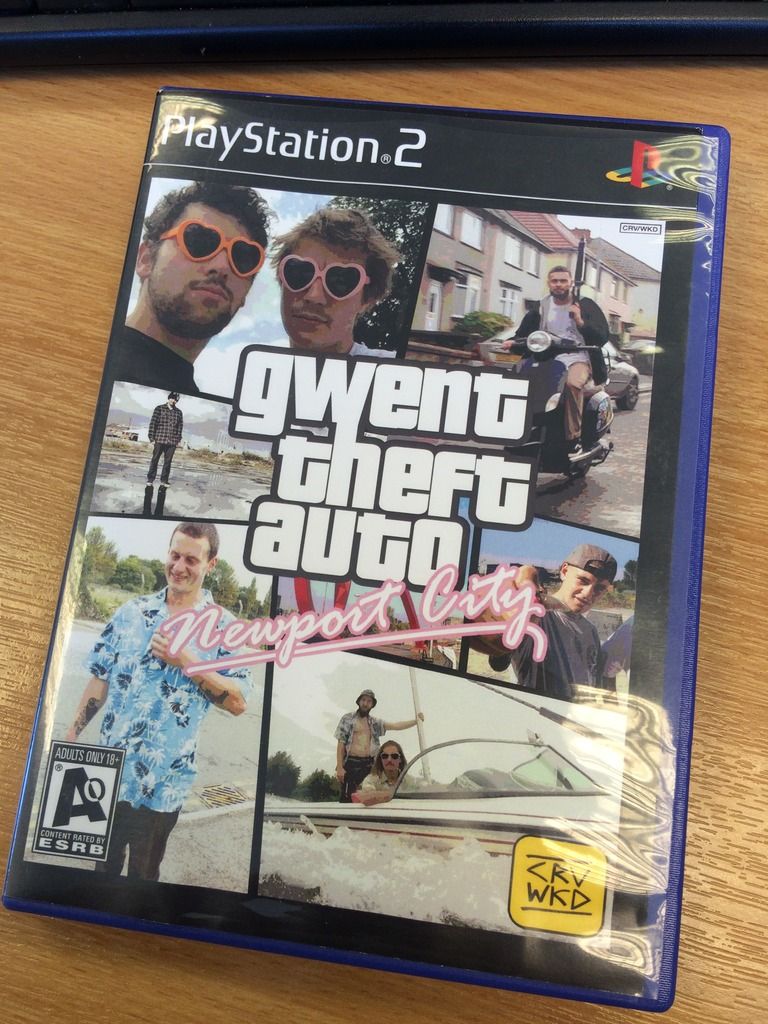 Example of Gwent Theft Auto:Newport City Excellent but more practical packaging
Upon receiving the video, the first thing that strikes you is why have I got a Playstation 2 game through the post? The DVD comes in an actual PS2 game case, impeccably designed by Tom Bramley. Some serious effort has gone into the design aspect of this!
The vid also comes with a sticker plus a superb PS2 style manual / zine with pages split between (I believe) a straight rip from the Vice City PS2 manual and shots of the guys from the vid. Some rad shots are included, see below for some examples! Just look at Bailey's Tailblock.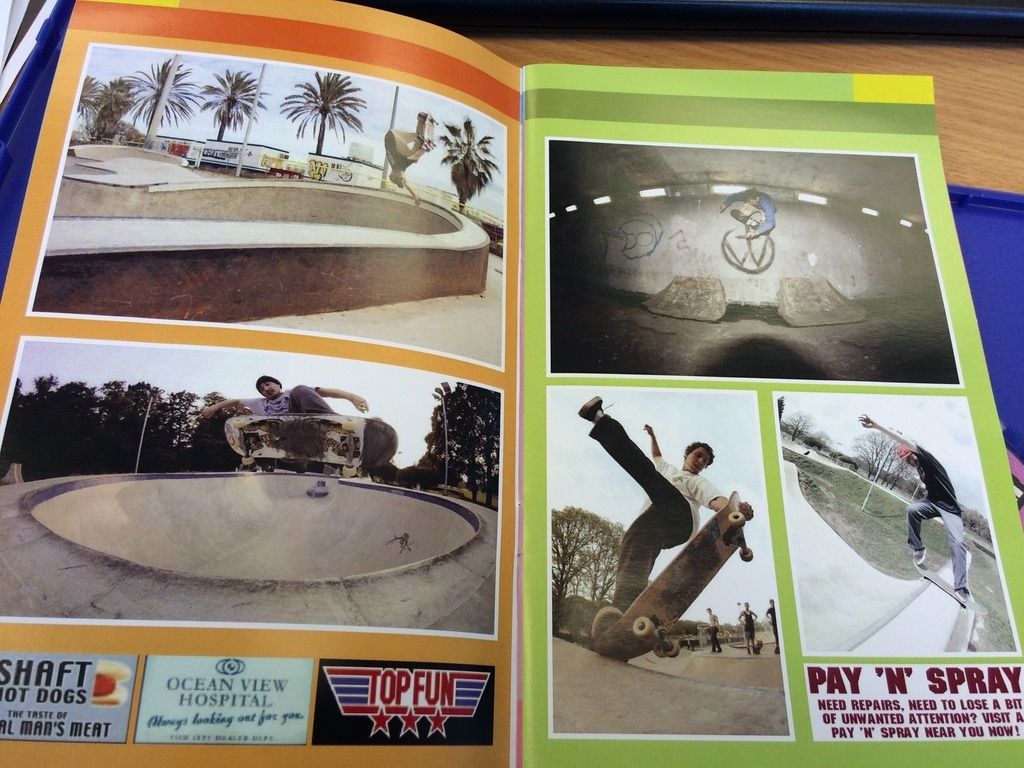 Throughout the video is an amazing soundtrack, at least partially lifted from Grand Theft Auto, maybe fully. You've got Flock of Seagulls, Bad Brains, Ozzy and more in there.
Kicking off the video is Sox with his typical off the cuff-seeming style, taking in such spots as the Cwmbran DIY, Preston footy stadium banks, the Coventry dish spot, an amazing roadside brick quarter with no runup or runout and even getting up to Livi at one point! Switch Backside Boneless on the bottom quarter of the Deaner?
After a friends section and Kyle Howells' rad all terrain antics is Arbel's short but great part starting with Mellow Park, Berlin and finishing with the Tailblock on that massive kinked quarter at the Deaner, just as The Cult's She Sells Sanctuary guitar bit kicks in, very nice. Also includes a rad as fuck Heelflip Nosepick. Yes you heard that right.
Chav Dan's section begins on home turf at Tredegar Park, Newport, in one of the gnarliest pools I've seen in the flesh! He goes on to skate some gnarly street shit, including a massive taildrop into bank and a seriously hairy looking triple 6 stair quick foot ollies down all three. A rad line right around that one funnest park in Copenhagen, followed by some smooth shit on the flow bit over the hip in fælledparken and then ends with a Cab Back D. Dude can also Madonna for days! Dan definitely shows Pops what's up in having a better section set to Don't Bother Me by the Bad Brains...

Chav Dan Smith Tailgrabs in Newquay for Arbel and Dean.
Beanhead takes the cake for best skit in a video of amazing ones, with his riff on Lance's Extremely Sorry intro complete with his own plasticine model ha. Shortly after aving a bucket of water thrown on him also recreating Lance's intro, he takes his staples to the pool at Newport, Frontside Pivots, Rock and Rolls, Tailblocks and Smith followed by an amazing Crook from deep to shallow! Pivot dropped into Smith and an examplary Pivot Disaster at Thaxted seals the deal on that.
Nathan Pritchard has a real complicated trick bag! One foot front rocks, backtail bigspins and halfcab beanplants to name a few, then we have Jake Collins section. Brilliant mix of all terrain shredding as you'd expect, frontside feeble grind to fakie on that steep bank spot in Barca is a highlight! Other notable things include an Indy on the ten foot quarter in the jumpramp section at Newport and a Nosegrind tailgrab over the hole in the bowl there too.
Lewis Gherkins section is rad too, with a load of wallride based street stuff plus some tranny head scratchers such as a Shuvit Nosepick, Beanplant Tailslide, Indy Tailblock and a Heelblock to possibly accidental hangup!

Pulley Back Smiths for the lover in Preston.
Last part goes to Sam Pulley, with the absolutely perfect song selection from GTA, Ozzy's Bark at the Moon. Sam sets the tone early in the section with Back Smith on the super gnarly looking quarter with a hip set into the bottom at Haverfordwest, followed by a New Deal revert and bigspinflip disaster revert on the crust ramp in Bristol. He then sets to taking his trademark technical gnarliness to a number of unfamiliar (to me) parks around the country / Europe. Other radness in the part includes a Nosegrind Tailgrab around the deep end of the pool coping bowl at Saffron Walden, Eggplant in the deep at the new Bath park, a front blunt on that super whippy DIY tran in Bristol, and the long as fuck boardslide ender, most notable as I thought it must be faked as I couldn't believe my eyes...
Gwent Theft Auto: Newport City is currently sold out, but word is there may be a re-release soon, keep an eye on the Haunting Skateboards site... In the mean time here's some offcuts from Sox's part!